Holly Steiner RN, CDM, CPM is the founder of New Life Midwifery.  With over twenty five years of professional experience with birth, Holly is excited to serve the families in South Central Alaska.  Holly has had a love for babies since she was young and knew by high school that she wanted to "catch" babies.  She began working in the perinatal field even as young as 16, volunteering in the newborn nursery.  In 1995, she graduated from Hardin Simmons University with a Bachelor's Degree in Science, Nursing.  She worked as an RN in L&D for 4 years.  In 2001, she became licensed as a Certified Direct Entry Midwife and worked for a busy practice, gaining lots of midwifery experience.  In 2004, New Life Midwifery was born out of her desire to provide women with more personalized care, allowing women to develop a relationship with their midwives and know who would be at their birth.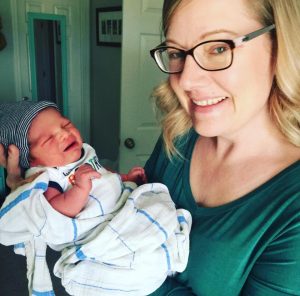 Holly and her husband, Paul, have five children, four of whom were born at home.  Her first baby, Isaac (22) was born in a hospital naturally, using the Bradley Method.  Claire (20) was next and the first homebirth, which revolutionized birth for Holly.  Silas (18) came third, and was her first waterbirth, which lasted 2 hours from start to finish!  Ahna (16) was a wonderful, almost pain-free waterbirth.  And finally, Samuel (12) finished off her birthing experiences with another amazing home water birth.  And yes, she did have a midwife at each of her homebirths!
Holly's dream is for most women to know how wonderful and safe it is to give birth outside of the constrains of the hospital/medical system. She has always had a love for new moms and babies and desires to serve them and provide the best prenatal, labor & delivery, newborn and postpartum care in a gentle, safe environment.  She also carries a burning desire to bring change to our national health care system, as it pertains to childbirth practices.  She has served on the licensing board for Certified Direct-entry Midwives as a member and as the Chair.  And she is involved locally and statewide in advocacy for midwifery and access to midwifery by all healthy women.